New Construction Reports
( Slab/Frame, Pre-plaster, Lock Up, Fixing stage, Handover)
We don't say there are bad Builders and it is not about bashing the builders it comes down to supervision and unfortunately some supervisors are not knowledgeable or have too many homes to look after. It is all about educating the supervisor/builders and trades just because they have been doing it this way for a hundred years doesn't mean it is correct. That is where we come in and educate the building trades on doing it the correct way. We pride ourselves on doing regular training to keep up with all the new changes to the standards. We are another set of eyes on your build. These are the different stages we can do for your build see below:
Pre-pour: We do say this is not a crucial inspection as it is the only stage that is signed off by an engineer but we can do them if you want that stage done.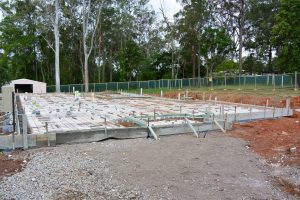 Base/slab: We check the slab after the pour once you receive your base invoice for any overpour, excessive cracks, and bony edge, exposed steel. This is not checked by an engineer or certifier so that is where we come and inspect it for you before you make payment.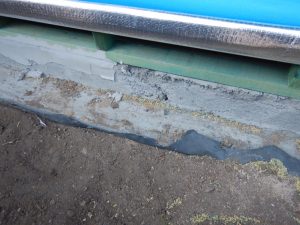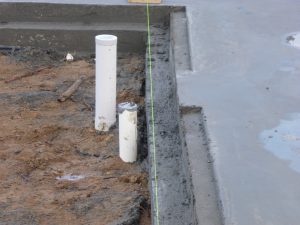 Frame: We check the frame after an invoice is issued. This is certified but they only look at certain aspects of the frame where we look at all of the frame elements. We check the wall frames are fixed, roof frames are fixed. All tie-downs and bracing are completed. Inspections focus is on structural material compliance,  bracing, and lintel support, point loads, load transfer connections to roof and/or floor diaphragm, dimension,  framing secure and straight.  We report on any defects found and take photos and do a report to send to the Builder for rectification. We also confirm that it is ready for payment before you release it. If money is tight we can check the slab/base at this stage too, which saves an extra cost of doing the base/slab stage by itself.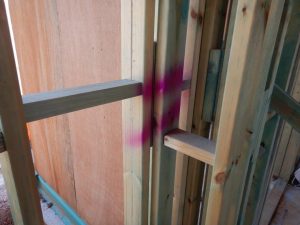 Pre-Plaster: This stage is very important, it is not an invoice stage from the builder. This stage is not checked by the certifier. We go back to check that all the defects found at the frame stage have been rectified. We go in just before plaster to check that all the rough-ins have been done like the electrical, plumbing. This is where a lot of the time the frame becomes compromised because they have cut into it incorrectly and not to standard. We also then check the installation of the windows and doors that they have enough nails and packers which if not done correctly can cause major problems at a later date.  We check the wall wrap is on correctly and to standard without tears and gaps which can then transfer moisture onto the frame and compromise it. A lot of the time the frame does get compromised from other trades and it is all covered up that's why it is very important to have this stage done. We go in just before plaster to give it the tick to go ahead and sheet.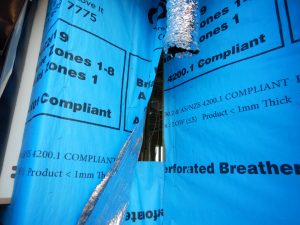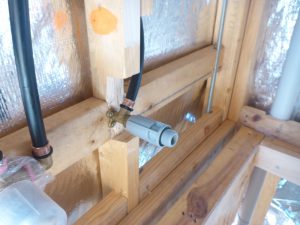 Lock-up stage: A typical lock-up inspection is generally carried out once the builder has completed the following enclosure stages: Fascia boards, roof guttering, roof covering, roof flashings, external wall cladding including brickwork, external windows & doors. Note: pointing of roof tiles or scribing of metal roof capping and screws may not necessarily be completed. Generally a lot of the time the waterproofing has been done so we check that too. We confirm that it is ready for payment before you release it. You would be surprised how many times we find broken tiles on the roof.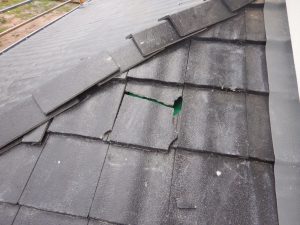 Fixing stage: Just to make sure that everything is on track and is up to that stage before you release the payment. We will confirm that all the internal lining, architraves, cornice, skirting, internal doors, wet area tiling should be all done, built-in cupboards are fitted and in place, before you release the payment. We will confirm that it is ready for payment before you release it.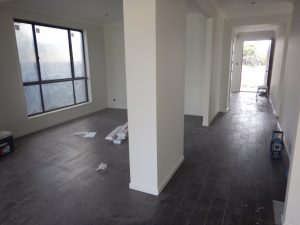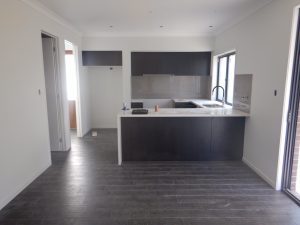 Handover/Practical Completion Inspection:  Practical completion means that the building work is at the final stage where the house can be reasonably capable of being used for its intended purpose. Generally, it means the point where all building work is complete in accordance with the contract, and the house is reasonably fit for occupation. All the subject works should be finished. It is recommended that you take care when inspecting the house with the builder to satisfy yourself that the builder has reached the practical completion stage.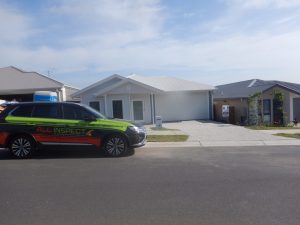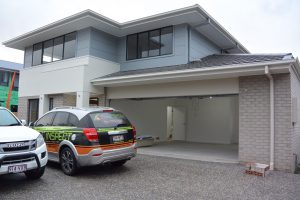 We work for You. We are paid by You, so totally independent from the Builder to make sure you are getting what you paid for. An inspection done by the Builder or an inspector paid by the Builder is not independent they are paid by the Builder so work for the Builder they won't go against the Builder that is where we come in as your independent inspector and all defects are reported on regardless if the Builder agrees or not as we don't do any work for builders like most other companies do.
You are entitled to an independent inspection and we can inspect any stage of the building progress as long as you give reasonable notice to your Builder. Don't let them bully you into thinking you can not inspect it (NOT TRUE)
What we look for just to name a few:
External Defects:
Pipes are painted and low enough in the ground with adequate coverage of soil as per the standard.
Ground levels are adequate and not causing water to pond up against the footings
Ground levels for the termite barrier as per the standard there is a standard they must adhere to regardless if you are doing the landscaping.
Weep holes are not blocked this is a structural defect we come across all the time as per the standard.
Articular Joints are done correctly or they will cause cracking later on in the external walls if not done as per the standard.
We make sure there is no brick overhang which is a structural defect
We make sure the slab has no exposed steel or voids as this is a structural defect.
We check the fire rating of the building and make sure that it does comply with the rating.
There is no damage to the roof coverings (Scratches, dents, marks)
Gutters are not ponding water
We make sure the flashing has been installed and there are no gaps that will allow pest or water ingress.
The windows have been installed correctly
The paint finish is done to the paint standard
The bricks have to be cleaned and be uniformed finished, we make sure that is done and is correct.
All tiles are fully supported or they will crack.
Nothing is damage. Contractors will be liable to repair or replace any building element that is consequently damaged from them carrying out building work on the property. In easy terms they break it they replace it.  You don't buy a brand new car with scratches, dents, marks, it is the same with a house. You are buying new must be new at handover.

Internal Defects:
The paint finish is done to the paint standard.
Roof void that the insulation has been done. In our experience this is a common defect from other trades like electricians that remove the insulation to install lights and never place it back, we make sure this is reported on.
The ducting for the roof mechanical ventilation has been completed, in our experience, this is a common defect that is cheated on most of the time and not finished (Cutting corners),  how many people go into the roof void to check that all has been done correctly at handover. We do.
Doors are painted top and bottom-most Builders do not complete this very simple task. If this is not done you void your door warranty.
Entry doors must be weathered sealed we make sure that is done.
No ponding of water in the showers is allowed. Our inspectors test the wet areas to make sure they comply.
We make sure there is no tile lippage. Uneven tiling.
We make sure the walls are straight, not bowed
There should be no excessive gaps, we check for this.
We make sure the door margins are even and straight.
Nothing is damage Responsibility to Rectify.  Same as External Defects. no (Chips, Scratches, Dents,)  Your bath, your kitchen, your tiles, they are all new when installed must be new at handover.
The inspectors make sure the grout is finished.
Important information
It is important to remember that the Certifier is engaged and paid by the Builder, so, therefore, is not independent.
QBCC states "While the builder has a statutory obligation to notify the certifier at certain construction stages, Homeowners are ultimately responsible for ensuring that approvals are granted and the required inspections are carried out".
The QBCC states that "If the homeowner is not confident that they have sufficient time or knowledge to inspect the quality of the work, they may wish to engage a consultant to monitor the job on their behalf".
That's where ALLINSPECT Inspectors come into work for you as an independent Judge.
Is a certifier responsible for supervision?
No – The contractor and owner are responsible for ensuring the building work meets acceptable standards. A certifier must act in public interest in regard to health and safety but can't supervise or report on the quality of work on an owner's behalf.
What is practical completion?
The Domestic Building Contracts Act 2000 (the DBC Act) defines this as the stage when the work has been completed in accordance with the contract and all relevant statutory requirements either without any omissions or defects or with only minor omissions and/or minor defects and the home is reasonably suitable for habitation. Your contractor will usually advise you (roughly two to three weeks) in advance when the estimated handover date will be. It is important that you read the definition of the practical completion stage in the definition section of your contract (usually located towards the back of the part of the general conditions of the contract). It is recommended that you or your representative arrange an on-site inspection perhaps a week before the date nominated for handover. This gives you a final opportunity to raise any issues prior to the handover.
On Handover Day
You should ensure that you receive copies of any outstanding documentation such as Certificates of inspection Product warranties for appliances installed and reports, notices, or other documentation issued by services providers (e.g. electricity, gas, telephone, water, or sewerage). It is important to store these documents in a safe place. If you encounter problems with appliances installed you should be able to contact the product supplier to have the problem addressed.
Final Payment
Under the DBC Act, before the builder can demand or receive the practical completion payment under the contract they must ensure that: All of the contracted work has been completed in accordance with all relevant laws and legal requirements and with the plans and specifications; All minor defects and minor omissions are recorded on an appropriate, signed, defects document; the house is reasonably suitable for habitation In addition to these legislative requirements, some contracts (e.g. the BSA New Home Construction Contract Pack) require the builder to provide the homeowner with all certificates of inspection (including, where appropriate, the 'Final' certificate) prior to receiving the final payment. Owners should check the practical completion requirements under the contract.
Defect List
Most standard contracts will include a defects document as one of the associated forms. The defects document must: List the minor defects and minor omissions that both the contractor and homeowner agree to; State when the contractor will attend to those matters; List minor defects or minor omissions that only the homeowner believes exist, and Be signed by the homeowner and the contractor (or the contractor has signed it and has made all reasonable efforts to have the owner sign it). Fixing items listed on the defects document The contractor is required to correct any minor defects or minor omissions that are discovered at handover or within six months after completion of the work. Any minor defects or minor omissions discovered after (but within six months of handover) should be referred to the contractor in writing to be rectified within a reasonable timeframe. You should make sure you sign and date all correspondence and retain a copy for your records.
Access to building sites (1) The building contractor under a regulated contract must permit the building owner, or a person authorized by the building owner (the building owner's representative)— (a) to have reasonable access to the building site under the building contractor's supervision; and (b) to view any part of the subject work.